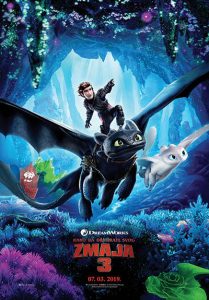 Film – Kako izdresirati zmaja 3: Skriveni svijet 3D – sinhronizovan
Termin – 07.-13.03. u 18.30
Cijena ulaznice – 4 KM
Trajanje – 104 minuta
Žanr – animirana avantura
Originalni naziv – How to Train your Dragon 3: The Hidden World 3D
Uloge – Jay Baruchel, America Ferrera, F. Murray Abraham
Režija – Dean DeBlois
Iz studija DreamWorks Animation stiže nam epska animirana avantura o odrastanju i pronalaženju hrabrosti da se suočimo sa nepoznatim i o tome kako ne treba odustati. Ono što će početi kao neočekivano prijateljstvo između mladog Vikinga i neustrašivog zmaja pretvoriće se u avanturu koja prevazilazi i sam život. Kino publika imaće priliku da uživa u novom filmu jedne od najomiljenijih animiranih saga svih vremena!